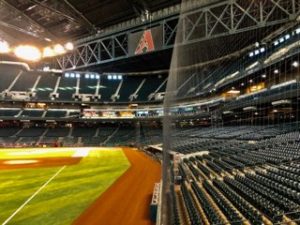 DYNEEMA/SPECTRA NETTING
C&H Baseball is proud to be the exclusive provider of StanMar Sports Nets Spectra ™  / Dyneema Ⓡ Brand netting to the baseball industry. Baseball teams face unique challenges in protecting their fans. Here at C&H we provide the best netting for fan safety and engineering services to install safety netting. Allowing the fans to still be up close and personal, while protected from foul balls.We have used Spectra/Dyneema netting in major league and minor league stadiums as well as new college stadiums since 1996. It was that year that we installed the baseball industry's first Dyneema backstop at Turner Field. Spectra ™ / Dyneema is made from a high strength lightweight polyethylene fiber. These fibers have zero stretch, possess a high energy to break ratio, low ratio conductivity and are highly resistant to chemicals and UV rays. Here at  C&H Baseball, we manufacture our own backstop nets and customize them to fit your size requirements. We have completed over 400 stadium installations. 
Dyneema and Spectra are Ultra High Molecular Weight Polyethylene or "UHMWPE" fibers. Dyneema is manufactured by DSM Dyneema, B.V.; and Spectra is manufactured by Honeywell International. These fibers are the strongest on the market today and have been used in our industry for over 19 years. This type of netting comes in knotted (most widely used today) and knotless versions. The most important factor is breaking strength at the location of use. C & H Baseball uses Dyneema netting manufactured in the USA. Dyneema #18 knotted with a twine thickness of 1.8mm is the number one netting currently installed in MLB and MiLB Ballparks. This thickness, 1.8mm or #18 gauge, is the only true proven netting material that lasts 6+ years in actual use.
Another notable netting type is Vectran which is a Liquid Crystal Polymer "LCP" manufactured by Kuraray Co., Ltd. This product has been used in Japanese stadiums with much success and durability. Please call us for more information on Spectra ™ / Dyneema netting.
 NYLON
C&H Baseballs netting is manufactured from UV stabilized nylon material. Optional gauge sizes are available. Nylon netting typically comes in 1 ¾" x 1 ¾" square mesh, hung on the square as opposed to the diamond, and bordered with a black poly rope. Nylon netting  can be used for stadium backstops and barrier netting, dugout rail netting and batting tunnel nets. Nylon is a synthetic polymer developed by Dupont. Nylon netting uses include barrier netting, dugout rail netting, batting tunnels, screen netting and little league or high school backstops. C & H Baseball's nylon net is manufactured from UV stabilized nylon materials in the USA. Many gauge sizes are available and the typical baseball/softball size is 1 3/4" x 1 3/4" square mesh, hung on the square as opposed to the diamond.

Let our experts work with you to ensure the correct netting is used for the right application in your stadium.
BACKSTOP NETTING
C&H Baseball is the #1 supplier and installer for MLB ballparks and was the first to introduce and install Spectra/Dyneema netting in a MLB Stadium

First to design a support system that will automatically retract when winds reach a predetermined level.

First to design a backstop support system to shear from the supporting elements when the reached a predetermined level; we also designed a safety catch-system that allowed for the support system to fall to the ground slowly and safely.

First to design a removable netting system and the first to design a backstop that is supported with two manual winches to allow the complete support system to be raised and lowered without the need of a boom lift on the warning track.

First to double layer stitch the bottom few meshes of the backstop netting to add further protection to the area of the netting that receives the greatest impact from baseballs.

First to use the synthetic rope Vectran for the support main netting support.

ier