Price as Shown Fully Padded w/wheels: $886.86
Base Price: $495.00
*Shipping is just an estimated rate. Additional shipping charges may be applied after checkout.
This screen is perfect for indoor or outdoor batting tunnel practice. Measuring at 8'H x 8'W this pitcher's L-screen is manufactured out of 1" square steel tubing. We offer this with a gloved #60 heavy duty knotted nylon netting. 
Accessories: SCR430P Full Screen Padding; SCRWHEELS screen wheels
*Note: Padding and wheels shown in picture are accessories; please see padding and accessories for more information
This product ships via Freight Truck. A custom shipping quote is required.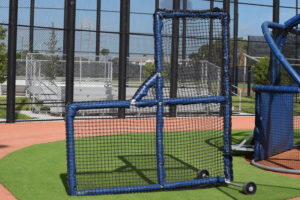 SCR430 Steel Pitcher's Screen
Perfect for On-Field or Batting Tunnel Work
Heavy Duty 1.7″ O.D. Alum Pipe
Dimensions – 8'H x 8'W
#60 Knotted Nylon Netting – Double Layer Glove Net
All Welded Construction
Heavy Duty Axle – Solid 3/4″ Aluminum Axle welded
to a 1″ sch 40 Alum Pipe
Easy to Transport