A multi-purpose, lightweight, rigid 1" diameter irrigation hose that meets the needs of golf, sports turf and all irrigation market applications.
Kochek's UltraLite features an abrasion resistant all polyester cover with polyurethane coating and a special helical interior reinforcement to retain its rigid shape. This thin-walled rubber lined hose is the most durable irrigation hose on the market.
Pliable and abrasion resistant cover
Lightweight and Kink Resistant
Normal service conditions in temperature ranges from -50˚ to 112˚ F
UL abrasion test of 15,000 cycles minimum
UV and weather resistant; retains flexibility
1 Year warranty against defects in material and workmanship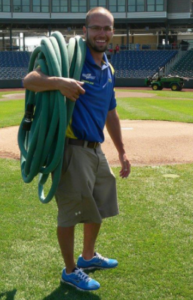 Ultralite High Pressure Irrigation Hose by Kochek
Ultralite, this hose is only 9 lbs at 50′ and 18 lbs at 100′! Heavy hoses take their toll on arms, hands and backs. But this hose with the abrasion-resistant polyester cover and helical interior reinforcement for shape retention changes all that. It's simply a superior hose. Working pressure is 300 psi. Fits 1″ nozzle

The Ultralite hose has an abrasion resistant woven polyester cover. The interior bladder has a helical reinforcement in order for it to retain it's shape. The full flow couplings on the hose reduce friction loss in the flow of water through the couplings.